George Mason University Pledge
Since 2014, over 2600 students, faculty, staff, alum, and community members have signed the pledge to END SEXUAL VIOLENCE. 
Click here to take Mason's Pledge to END Sexual Violence.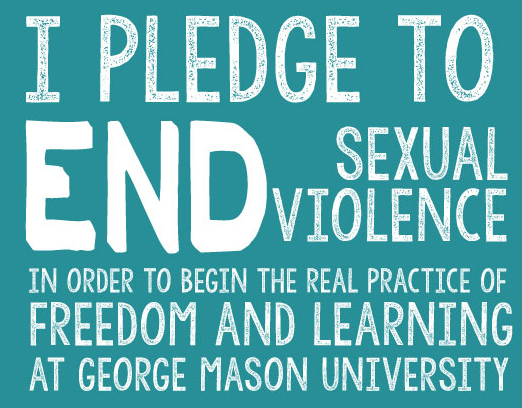 The "It's On Us" campaign is an initiative from the White House to prevent college sexual assault. NASPA supports this campaign and encourages all student affairs professionals to pledge to work with their students and colleagues to stop sexual assault and gender-based violence on campus. To learn more about the "It's On Us" campaign, click here. To learn about other efforts by the White House to prevent this violence, click here, and to get more information about NASPA resources for violence prevention, click here.
By taking the pledge I agree: 
To learn and talk openly about sexual assault, related forms of gender-based violence, and their basis in inequality with my colleagues and students.
To speak out, challenge, and seek to change negative gender stereotypes, sexism, and rape culture when I see them in myself or on my campus.
To listen to, believe, and assist victims of gender-based violence to continue and succeed in their education.
To work with colleagues and students to educate our campuses on how to prevent violence and the inequalities that create violence.
To be part of the solution to end all forms of gender-based violence on my campus and beyond.