"Every 2 minutes someone is sexually assaulted in America."
Fear 2 Freedom's Freedom Dove unites the national colors, teal for sexual assault, purple for domestic violence, and orange for sex-trafficking. The chains symbolize the fear and bondage that occurs when abuse takes place. Freedom Dove soaring marks the freedom from fear, the chains and tears falling away.
---
Our Mission:
Fear 2 Freedom is a global non-profit dedicated to redeem and restore the lives of those affected by sexual assault, bringing them hope and healing. Our goal is to raise awareness of sexual abuse, bring change through vigilance and healing through compassion. We are in the business of "restoring joy" to those who have been sexually assaulted, encouraging them on their own journey from fear to freedom.
---
What We Do:
Fear 2 Freedom partners universities, hospitals, and communities to assemble after-care "Fear 2 Freedom Kits" for those affected by rape, child abuse, domestic violence, and sex-trafficking. By raising the cultural understanding, students and members of the community are empowered to be a part of the solution and help make a tangible difference in the lives of those abused.
---
About the Founder: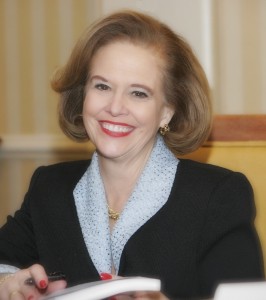 Rosemary Trible is the President and Founder of Fear 2 Freedom. Rosemary's compassion to help others move fr om victim to victory led her to write the book Fear to Freedom in which she shares her own healing journey after being raped at gunpoint in 1975. Rosemary has dedicated her life to walking alongside those wounded by abuse and helping others find joy.
Her husband, former U.S. Senator, Paul Trible Jr. currently serves as the President of Christopher Newport University. Rosemary, originally from Little Rock, Arkansas, has been married to Paul since 1971. They have two children, Mary Katherine, who is married to Dr. Barrett W. R. Peters, a pediatric dentist; and Paul III, who is the co-founder and CEO of Ledbury, a men's shirt-making company. One of her greatest joys is being a grandmother of two.
---
In Memorial: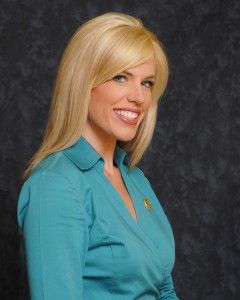 Fear 2 Freedom is dedicated to the life and legacy of Anne Pressly, a vivacious news anchor for KATV Channel 7 in Little Rock, Arkansas. On October 20, 2008 at 26 years old Anne died following an attack which left her brutally beaten and raped. Her perpetrator is now serving a life sentence. Anne's life of dedication and devotion to others will be remembered through this program to help bring hope and healing to those sexually assaulted.
_____________________________________________________________________________________________